Previous Page





Add a comment * Click here to enter a comment

What a picture!

Marty Feldner (See his L&H History website) might be better at describing the railroad buff details of this photo of a majestic L&H RR locomotive rolling through New Milford in July of 1946. Shirley O'Brien Leinweber submitted this wonderful picture and informs me that the engineer was her father, Edward F. O'Brien, 7 Belmar Ct., Warwick.

Someone tell me about the New Milford spot, .. I can't identify it, though it does have a familiar look to it.

Don't know about you but my impression is that this photo is award winning quality.

Look closely below, that's Ed O'Brien in the cab window.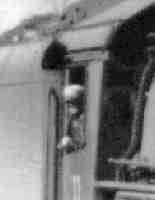 &nbsp &nbsp Received a reply from Marty Feldner re. this L&H RR photo:
Thanks much for the shot of L&HR 10 class (I think it's #11). And thanks for the extra link to L&H History
&nbsp &nbsp It is, indeed, a great shot! At first glance my impression was also New Milford, but it's a little further up the line- Burnside, to be exact (a couple of miles south of Maybrook). The L&HR crossed the NYO&W here; the O&W tower controlling the junction can be seen in the background to the left of the train.
&nbsp &nbsp And if I had to guess, I'd say the shot was taken by Bob Collins, a well-known railfan photographer who was doing a lot of shooting along the L&HR (and most other area railroads) during that time frame. If it is a Collins shot (I have inquries out), there's a good chance he gave the print to Ed O'Brien. Bob worked for the Erie; being a railroader himself, he was good to the people in his shots. ... from Shirley O'Brien Leinweber




Previous Page


Click to zoom in to larger photo
Orange County, NY in the 40s and 50s