Previous Page





Add a comment * Click here to enter a comment

To see Comments, click below:
by &nbsp Betty Lou &nbsp Gray-Smith - "Hi Ed, I believe these are ..."
by &nbsp Liz &nbsp fEAGLES bROWN - "1st row. last on right, Lorraine ..."

Must say that Oly Haynes derserves much credit, as our only male media voice for the WHS Survey in '51-'52. Looks to be quite an able staff to me.

Front Row L. to R. ???, Florine Skutnik, Mrs. Deming, Betty Lou Gray, ???, ???, ???
Second Row Toni Manno, Dale Felker, Grace Buckbee, Ethel Ferdon, Delores Dowd, Betty Ott, Doris Horton, Pat Marsh, ???
Back Row Oly Haynes, Barbara Wilcox, Barbara Houghtaling, Kitten Buss

Sorry I missed some names, and honestly I am a bit uncertain about a few guesses. Any corrections are appreciated.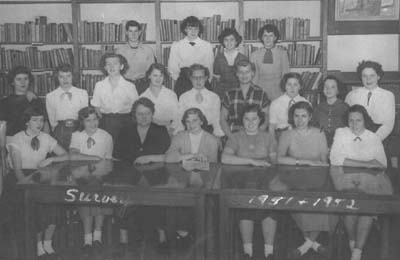 Click for larger photo
... from


Previous Page


Click to zoom in to larger photo
Warwick, NY in the 40s and 50s