Previous Page





Add a comment * Click here to enter a comment

Class of 1952's 50th reunion. Held August 17th 2002.

That's Elaine Anderson Shird talking with two classmates (?) and (? Bill Paterson ?) Could be, ..

Whoops, .. Tessie just informed me that the tall fellow on the right is Roger Benson. The women in the middle is his wife. As a very young boy I knew Roger well. Many ballgames together with Gerry Freisinger, Walter White and others, in the back yard. Recall that one summer Roger and brother John talked me into signing up for a two week stay at Camp Townsend. They loved it, they said. I think I lasted two nights. Missed the Warwick (Deming) Park, along with mom, dad, and the dog.

Someone will have to ID those in the lower photo. To enlarge that picture click below.

This just in from Tess,

The picture with 6 at the table was left to right Edward VanRiper, Robert Paffenroth Robert's brother and Rose Barczak Paffenroth, Marcella House VanDuzer and her husband.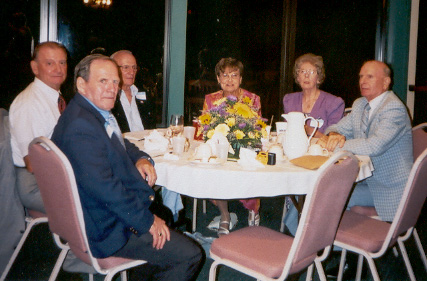 Click for larger photo
... from


Previous Page


Click to zoom in to larger photo
Orange County, NY in the 40s and 50s